Our Farm   
Reservations only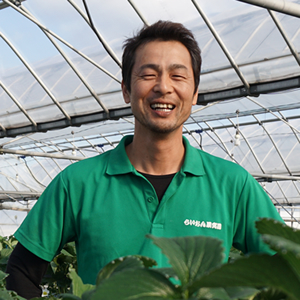 Welcome to Lion Fruit Farm.
Lion Fruit Farm is a strawberry picking farm situated in a beautiful rural town of Chikuzen-machi, which is only about one hour's drive from the Fukuoka city center.
Lion Fruit Farm is the largest strawberry picking farm in the Kyushu area, with 21 greenhouses built over an area of approximately 20000㎡.
There are many varieties of strawberry grown in Lion Fruit Farm, including Amaou strawberries which are the speciality of Fukuoka prefecture.
For the comfort of the visitors, all the strawberries are cultivated by "high cultivation technique", growing strawberries at a height of around one metre above the ground, so that it is easier to pick strawberries. The grounds in the farm are also covered with sheets to keep your feet clean.
Escape from you busy lifestyle and indulge yourself with the taste of freshly picked sweet strawberries in the beautiful nature of Chikuzen-machi.
Why you should visit Lion Fruit Farm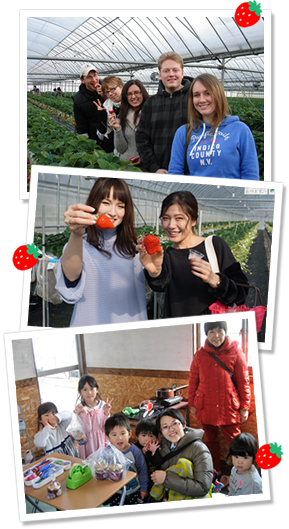 You can try and enjoy many different types of strawberries.
The high cultivation technique we employ on our farm provides a more comfortable and hygienic environment for strawberry picking.
The farm offers other activities such as "Make-your-own jam" cooking sessions.
The farm is fairly close to Fukuoka city, and offers a convenient location for tourists to experience the rural Japanese environment.
The farm is close to popular tourist spots such as Dazaifu Tenmangu and Kyushu National Museum.
Price
60 mins (all you can eat)Reservations only
Period
Adults
Children (3-12yrs old)
To take away
Start of the season –
10th of April
2100yen
1700yen
250yen/100g
11th of April –
10th of May
1800yen
1400yen
200yen/100g
11th of May –
End of the season
1300yen
1000yen
150yen/100g
Strawberry Season

Mid December – Late May

Strawberry Varieties

Amaou, Benihoppe, Kaorino, Akihime, etc.

Closed

Irregular (The farm is closed depending on the conditions of strawberries.)
※ The availability is subjected to the conditions of strawberries and also the time of the day.

Free parking

100 spaces

Group Reservations

The farm can accept the maximum of 200 persons at one time.
No reservations can be made for commercial tours organised by travel agents, and for groups only with take-away strawberry purchases.
Opening Hours
Registration
Opening hours
9:45~
10:00~16:00

Reservations only

※ If you are more than 30 minutes late for your reservation, it will be canceled.
Getting Here
By Car

Enter the following address in a GPS navigation system:
〒838-0221福岡県筑前町吹田1478-1 ℡0946-42-5556 Map Code: 55 191 018
1. Drive down towards Chikushino city from Fukuoka area on National Route 3
2. Turn left at the Harisuri intersection onto National Route 386, and drive towards Asakura city
3. Turn left at the Ishibitsu intersection, and drive for about 2km to Lion Fruit Farm.

○15 minutes from Chikushino Interchange (IC) in Kyushu Expressway
○20 minutes from Chikugo-ogouri IC in Oita Expressway
○25 minutes from Mizuki IC in Fukuoka Urban Expressway
○20 minutes from Dazaifu Tenmangu and Kyushu National Museum.

By Public Transport

1. Get off at Asakura-gaidou station.
2. From Asakura-gaidou station, catch a bus towards Asakura city.
3. Get off at Ishibitsu bus stop
4. Walk for approximately 20 minutes to Lion Fruit Farm.

By JR train:

1. Get off at Futsukaichi station.
2. From Futsukaichi station, catch a bus towards Asakura city.
3. Get off at Ishibitsu bus stop.
4. Walk for approximately 20 minutes to Lion Fruit Farm.

By taxi

Approximately 9 minutes (5.5 km) from Chikushi Station (Nishitetsu train station)
Approximately 11 minutes (6.8 km) from Haruta Station (JR train station)
Approximately 50 minutes (24.1 km) from Hakta Station (JR train station)